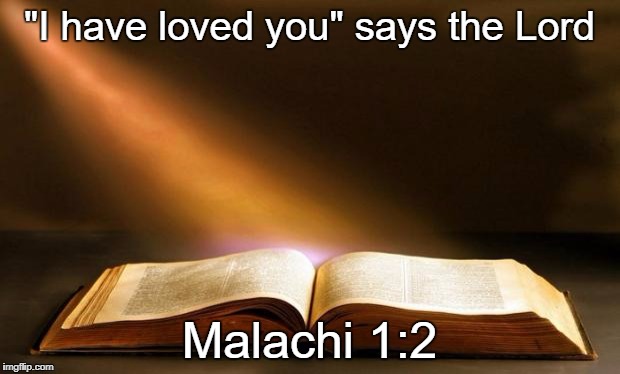 The first chapter of Malachi is a relentless barrage of accusation coming from God, hammering his audience with his contempt for their hypocrisy. It's tough stuff, and the easily offended would be, well, offended. But it's stuff that they needed to hear, because the church leaders and church-going Israelites to whom God is speaking were abysmal in their worship life.
Look at the laundry list of God's frustrations with them:
They don't show him respect and honor (v. 6)
They offer defiled food (v. 7)
They offer blind, lame, and sick animals for sacrifice (v. 8)
They dishonor his name (v. 12)
They complain about God's commands (v. 13)
And the list goes on through the next two chapters! "I am not pleased with you," says the Lord (v. 10).
God wants the very best from us. He wants us to come to him with the best of what we have. So when the people were bringing their leftovers, bringing their garbage, bringing their least valuable property and offering that to God, he is offended at them. And rightly so! "Try giving gifts like that to your governor, and see how pleased he is!" says the Lord (Malachi 1:8, NLT).
And to top it all off, the priests then complain about all of it. "The food we get isn't good enough. Serving God is a burden. Living by God's commands is too hard."
Does any of this sound familiar? It does to me. It sounds like all the times I've shown up to church and realized that I forgot the offering envelope – not a conscious decision to plan when and how to give, but a simple lack of attention to that part of my spiritual life. It sounds like all the times I've sat in church and gone through the motions, but my head and heart are somewhere else entirely. It sounds like the "Junk for Jesus" concept that leads us to pat ourselves on the back whenever we give a worn out, old, or ugly thing to church because we think someone might find a use for it, even though we can't.
And then we complain about God. We gripe about the service times, about the length of the sermons, about the content of the sermons, about the music or the people or the temperature of the sanctuary. We gripe that the pastor talks too much about giving. We complain about our fellow Christians. We make excuses for our disobedience, reasoning that while maybe God's law applies to other people, my situation gives me a reason not to obey that particular thing. We whine along with the Israelites, "It's too hard to serve the Lord."
What does God say to all of this? Back up to the beginning of Malachi. What does God say in the second verse? "I have loved you." Yes, God has some hard things to say to his people. He has hard things to say to us. But he starts with a reminder that his love is sure. That he has always loved us. That he always will.
The book of Malachi ends with the promise that the Savior will come. God bookends this difficult, accusatory, condemning message with a reminder that he loves us, and that his love is found in Jesus. When we repent of all of this half-hearted worship and whining disobedience, we can be sure that God's response is grace, forgiveness, reassurance, and love. "I have loved you," says the Lord. "And I always will."