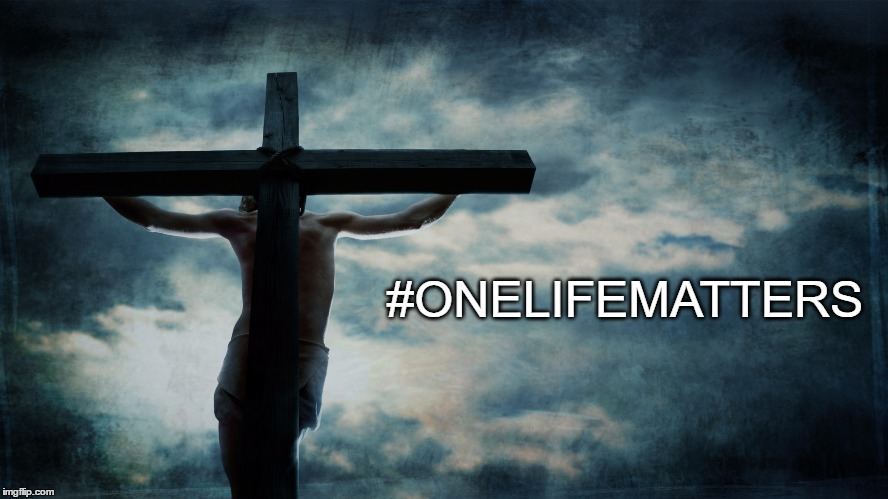 Black lives matter. Blue lives matter. All lives matter. But no matter how many hashtags we post on Facebook, Twitter, Instagram, Friendster, MySpace, etc., in the end it seems like it… doesn't matter. At least, it doesn't seem like the hashtags are solving the problems, does it?
I'm not trying to be cynical. I recognize that there are deep issues here. I'm distressed by the stories of what seem to be hasty decisions by police officers. I'm distressed by stories of violent protests against police officers. My little brother is black; his life matters. One of my closest friends is a cop; his life matters. I have a wife and two children; their lives matter. My life… well, that might be debatable some days, but you get the point.
In the end, there's only one life that matters. More on that in a moment.
It's been weighing on my mind how we react on social media to every incident. (And note, I say "we" because I believe I have been just as hasty at times.) We see a video or a meme and quickly hit the "share" button, but have we bothered to look more than three paragraphs into the news articles before forming an opinion? Have we waited for due process to reveal the truth of the matter? Are we so quick to jump to a conclusion based on which voice is telling us what to think that we end up contributing to the problem?
Why do you look at the speck of sawdust in your brother's eye and pay no attention to the plank in your own eye? – Matthew 7:3
In so many ways this is just our human nature blatantly on display. It's no different than when we rush to judgment on our neighbor because something in their life doesn't look right to us. We think we know all that's behind their behavior, we put on our holiness hat, we point a finger and cry foul.
But God will judge us all. And what will he see when he looks at us?
Well, this is why I say there's only one life that matters. And it isn't mine. Or yours. It's the life of a man who came exactly because of all the crap we do to each other day after day. All the times we rush to judgment. All the times we assume we know the score. All the times we take sides against each other. All the times someone makes a hasty decision that ends a life, or a deliberate and well planned one.
Jesus came for all this. He saw this moment in time, when it seems like the world is falling apart around us. He saw all the other moments when our hopes soared and when they came crashing down. He saw all the rottenness in all of us and the rotten things we do to each other. He stepped in… and lived better.
Because of the Lord's great love we are not consumed, for his compassions never fail. – Lamentations 3:22
He was compassionate. He was kind. He healed. He forgave. He chastised. He called for repentance. He rebuked. He called. He sought. He sacrificed.
Jesus lived as though every life matters, because to him, every life matters. So he didn't just live to show us an example, he lived to be a substitute, and then did the unthinkable – he gave up the only life that truly matters, the only perfect life anyone ever lived. He offered it up as appeasement for all of our failure to love each other, for our failure live as though all lives matter. His one life for all of our lives, to make our lives matter.
We have been made holy through the sacrifice of the body of Jesus Christ once for all. – Hebrews 10:10
And God accepted that sacrifice as full substitution for everyone. That's the point of the resurrection. Jesus's return to life was no gimmick to wow the crowds. It was a sign that his life matters so much that even death can't hold him down. Can't hold us down, either, because we have him on our side. That's how it works – he can overcome death for himself, he can overcome it for us.
So now what? I'm of the mind that if we live as though his life is the only one that truly matters, because only his life truly gives our meaning, then we don't contribute to the problems – we become the solution. When we live as though Jesus's life is the only one that matters, we think less about how we can make ourselves significant and more about how we can accomplish his mission of saving the lost. When we live as though Jesus's life is the only one that matters, we're less likely to point the finger of blame at others and more likely to ask the question, "How can I help?" When we live as though Jesus's life is the only one that matters, we draw others to him and show the true meaning of the Gospel to a world that desperately needs to hear it.
Blue lives matter. Black lives matter. All lives matter.
One life matters.